XX Century Literature
Prototypes of the Protagonists in the Novel "Jaqo's Dispossessed" by Mikheil Javakhishvili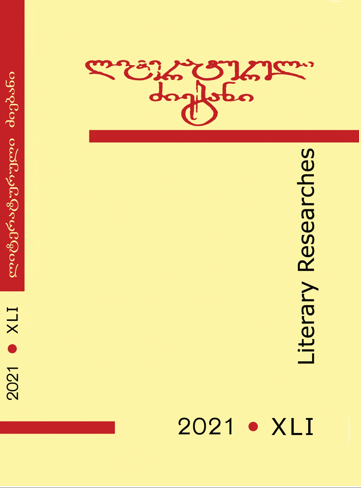 Published 2021-12-20
Keywords
Mikheil Javakhishvili, "Jaqo's Dispossessed"

,

Characters of "Jaqo's Dispossessed"

,

Prototypes of "Jaqo's Dispossessed"
How to Cite
ცერცვაძე მ. (2021). Prototypes of the Protagonists in the Novel "Jaqo's Dispossessed" by Mikheil Javakhishvili. Literary Researches, 41, 90–101. https://doi.org/10.48614/lr.41.2021.90-101
Abstract
It is known that a particular historical person or the personality, contemporary of the author can become a prototype, a certain literary character. As a result of artistic modification, a literary character created by the writer often moves away from the prototype; some of his/her features may be exaggerated at the expense of deformation or modification of other features, and thus the prototype continues to exist in the text. The role of the prototype varies following different literary epochs or directions.
Finding and identifying prototypes of literary characters is one of the key issues concerning the scientific study of the work of a writer.
In the essay "How I Work" Mikheil Javakhishvili, along with other issues of creative psychology and the writer's creative laboratory, shares his opinion about the prototypes of characters in fictional texts. "The prototype helps the writer greatly. If, while writing, a writer has a living acquaintance in front of his eyes, the character will also come out "alive". However, drawing a portrait is not enough. The writer transforms it in his own way, adds some things, takes some things out and creates someone who, at the same time, both looks and does not look like the original. This is how a synthetic type is created", Javakhishvili writes.
Many characters in Mikheil Javakhishvili's works have prototypes, some of which are already known. Revealing unknown prototypes and finding materials about them is an extremely topical issue on the way to perfecting the study of the writer's literary creations.
This paper discusses the issue of identifying the probable prototypes of the protagonists of Mikheil Javakhishvili's novel "Jaqo's dispossessed" – Jaqo, Teimuraz and Margo – and finding information about them on the basis of memoirs or other genres of literature recently introduced into scientific circulation.